As Climate Risks and Opportunities Converge, Real Estate Turns An Eye to HVAC
April 3, 2023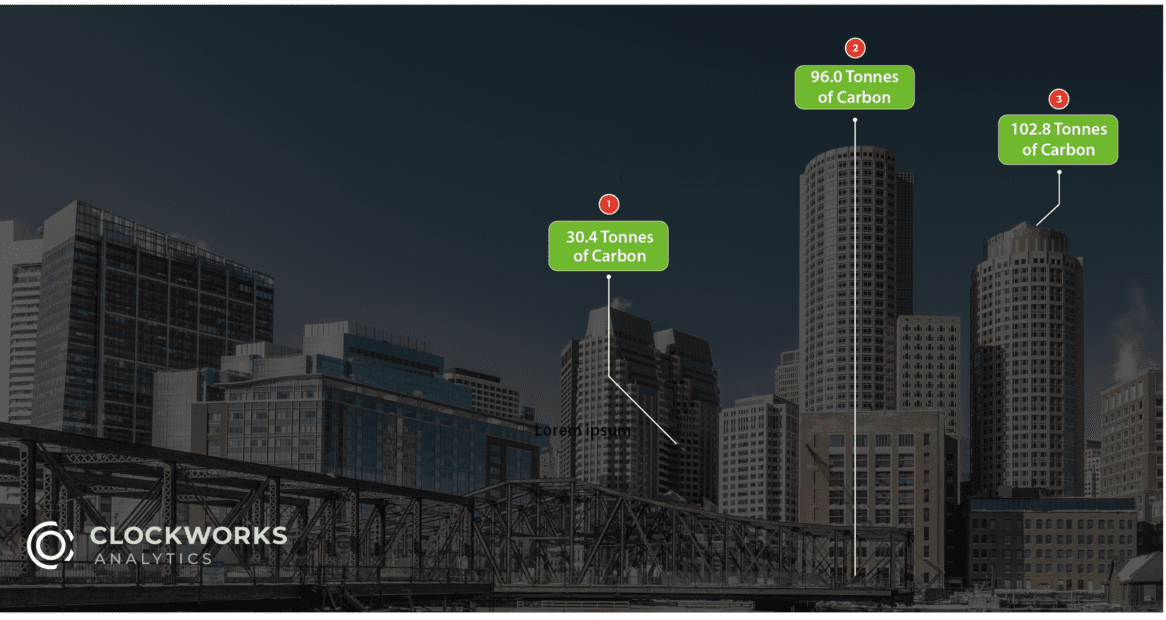 With buildings driving approximately 39 percent of total global CO2 emissions, the call for aggressive action toward sustainability and net-zero carbon commitments has surged. But as an increasing number of real estate organizations accelerate ESG goals to meet this new reality head on, they must acknowledge two important facts:
Buildings are aging. At the end of 2022, the average U.S. commercial building was about 53 years old and the average mixed-use building dates to the 1940s. Even with major investments in upgrades like LED lighting and sensors, the nature of building systems is to degrade over time. Building equipment requires continuous monitoring to ensure ongoing efficiency.

HVAC Systems represent a large amount of energy use. A typical Heating Ventilation and Air Conditioning (HVAC) system accounts for approximately 40% of a building's total energy consumption and 70% of base building consumption (i.e. consumption from systems when the building is unoccupied). Significant reductions in building emissions can be achieved through technologies that already exist, but investments must trickle down to facilities management.
Behind-the-meter energy optimization using building analytics software is a critical part of any strategy to meet (and prove) sustainability commitments, adapt to new regulations, and pinpoint energy waste in aging systems continuously over time. There's a growing level of industry momentum and countless high-profile case studies, such as the US Department of Energy's four-year Smart Energy Analytics Campaign, where analytics software drove a median 9% energy savings on 6,500 buildings across the US.


How Does Fault Detection and Diagnostics Software Work?


Fault detection and diagnostics (FDD) software plugs into the existing building automation systems (BAS) and monitors HVAC performance in real time, automatically notifying operations and maintenance teams where energy waste is occurring. And it does that long before the next utility bill comes in the mail.
Unlike traditional methods for monitoring these systems, like lists of alarms generated by building automation systems, FDD helps to filter through the noise and pinpoint the highest-priority energy and equipment issues across a building or portfolio. This helps lean facility teams focus on the most impactful areas to invest their time and address energy waste before it compounds over time.
As a global leader in FDD software connected to over 380,000 pieces of equipment in 30 countries—we have one of the largest building analytics datasets available. In our most recent annual report, we shared that since the start of 'task' tracking in late 2016, we have documented 38,000 completed building tasks (diagnosed by our building analytics system) by active clients that resulted in over $37 million in energy cost savings. This equates to about 270,000 tonnes of annual carbon savings.
Healthcare provider Kaiser Permanente is one example of an organization that, in order to achieve aggressive goals for carbon neutrality, looked to reduce facility energy use by implementing data analytics. In a case study that included monitoring across 4M square feet, they achieved 12% energy savings at seven locations.
FDD not only helps building owners identify energy conservation measures (ECMs), but it provides a holistic view that historically has taken multiple technology solutions to achieve. This is extremely important when trying to accurately calculate energy savings and prove emissions reduction achievements.
FDD does this in two distinct ways:
Top down: This measures the savings that hit the utility meter. These calculations are often retrospective and are used for reporting to validate the investment in the program and to earn utility incentives.
Bottom up: This calculates the potential savings of individual building issues as flagged by the FDD system. It's vital in the prioritization of faults to find the signal in the noise.
The power of Building Analytics is compounded when real estate organizations look to track energy performance at scale. FDD can standardize energy data portfolio-wide and provide a centralized view of overall energy performance, including helping to pinpoint which buildings are performing better than others and identify whether buildings are meeting sustainability commitments.
The role of HVAC systems on the path to energy efficiency and net-zero carbon cannot be understated. Because of this, tools to monitor and optimize them like FDD have increasingly become accepted as an essential tool in the modern energy management process.
If you are interested in learning more about fault detection and diagnostics, our Building Analytics Comparison Guide provides an excellent overview on how real estate organizations can make the jump from the status quo—reactive monitoring of BAS alarms—to truly optimized HVAC systems that meet and sustain energy goals.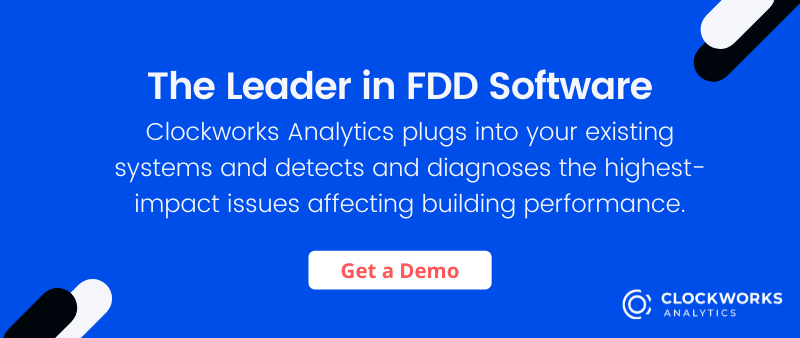 Back to blog