The best automated building analytics in the industry.
Scroll to learn more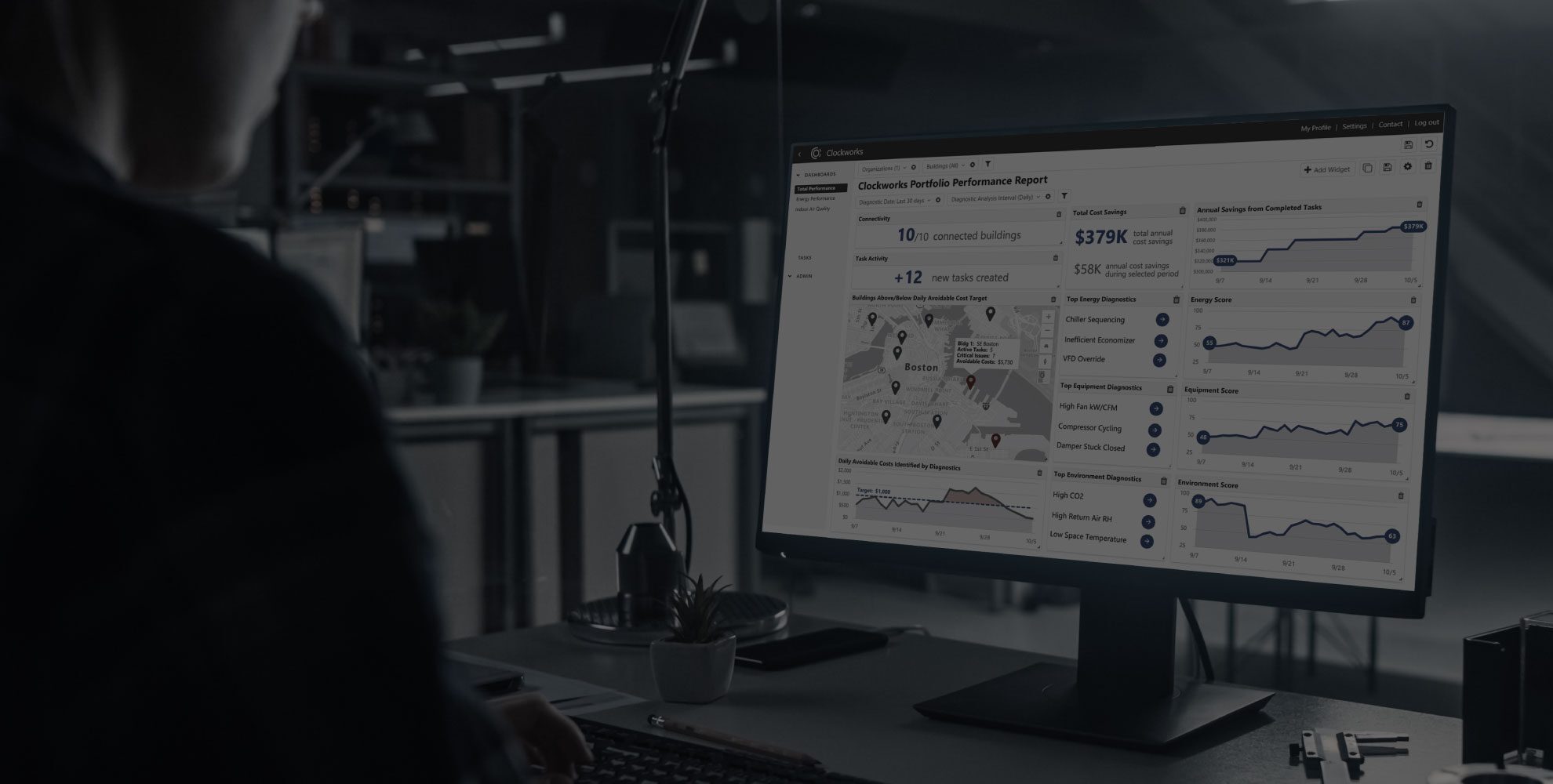 The Clockworks Process
Clockworks is designed to help you maintain buildings at their peak performance. Scroll right to see how we go from initial connection to proactive action in a building.
Request a Demo
Connect
A software gateway is installed within the building to connect to existing BMS and metering systems. Thousands of data points are extracted every 5-minutes and sent to the Clockworks cloud.
Model
A digital model of every piece of equipment is created. Control sequences, mechanical schedules, and data points combine to create a simulation of equipment operation.
Diagnose
Clockworks is like having a team of engineers constantly reviewing your building systems to find and diagnose performance issues and optimization opportunities. The analysis engine continuously evolves with over a decade of engineering development across thousands of buildings throughout the world.
Prioritize
Every issue identified is prioritized by its impact to energy consumption, indoor environment, and equipment reliability on a simple 0 to 10 scale. An energy model is created to quantify the avoidable costs from the analyzed period, as well as the projected annual cost savings when issues are fixed.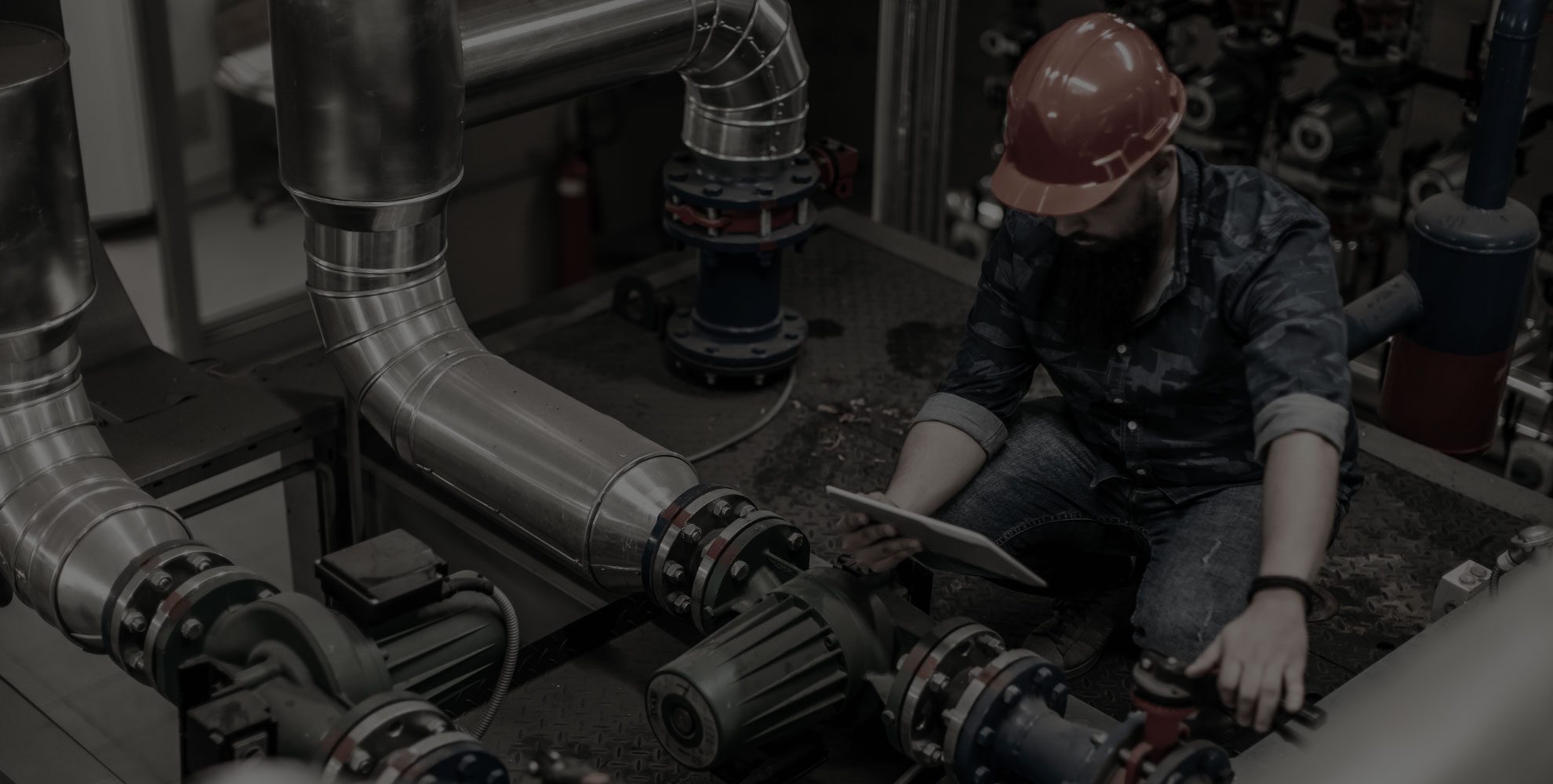 Act
Clockworks gives you the most intelligent punch list you've ever seen so you can proactively maintain your buildings. Let us handle the analytics so you can focus on what you do best – serving your clients.
Request a Demo
The Clockworks competitive advantage.
Fault Detection
Point Tagging
Applying 'point tags' transforms raw data points from the BMS into a uniform dataset, but it doesn't account for the intended control sequences or incorporate additional equipment information.
Diagnostics
Data Model
The Clockworks data model combines BMS data points, control sequences, and mechanical schedules to create a digital model of every piece of equipment.
Fault Detection
Fault Rules
Creating custom if-this-then-that rules allows you to analyze more performance conditions than what is tracked by alerts in the BMS, but can easily result in 'smarter alerts' that quickly overwhelm a facilities team.
Diagnostics
Global Analysis Engine
Clockworks analyzes over 400 million square feet of buildings everyday using a global set of engineering algorithms. All diagnostic findings are bundled to present the highest priorities of the day, week, and month across all equipment.
Fault Detection
Broken Rules
A custom rule configured for a specific building works great, but rules don't easily match to the diverse equipment and controller configurations you'll encounter across multiple buildings.
Diagnostics
Scalable Logic
Data quality, equipment variants, and all unique system configurations are accounted for to produce uniform diagnostic outputs for every building regardless of the underlying equipment types and configurations.
Fault Detection
False Positives/Negatives
It's frustrating to investigate a fault to find it was intended operation (false positive), or worse yet, to react to a critical issue that was never detected by your analytics software (false negative).
Diagnostics
Trusted Diagnostics
Clockworks has learned from every building that has come before – constantly improving over the course of 10+ years and 2,500+ buildings. We guarantee the quality of our diagnostic findings so you can trust and act on the results.
Fault Detection
Rule-of-Thumb Costing
Fault detection software can automatically calculate rule-of-thumb cost impacts from energy savings, but it's impossible to accurately model those impacts to a full year or ensure you aren't double counting savings from related faults.
Diagnostics
Automated Energy Modeling
Clockworks automatically models energy impacts using advanced regression modeling techniques. The energy model normalizes for weather, equipment runtime, and even seasonal schedules of heating/cooling systems so you can confidently track all energy cost savings.
Fault Detection
Time Building Rules
Customizing a library of fault rules requires time, expertise, and above all else – money.
Diagnostics
Time Fixing Issues
Clockworks handles the analytics and lets you focus on what you do best – serving your clients.