Fault Detection & Diagnostics in Higher Education Facilities
March 17, 2021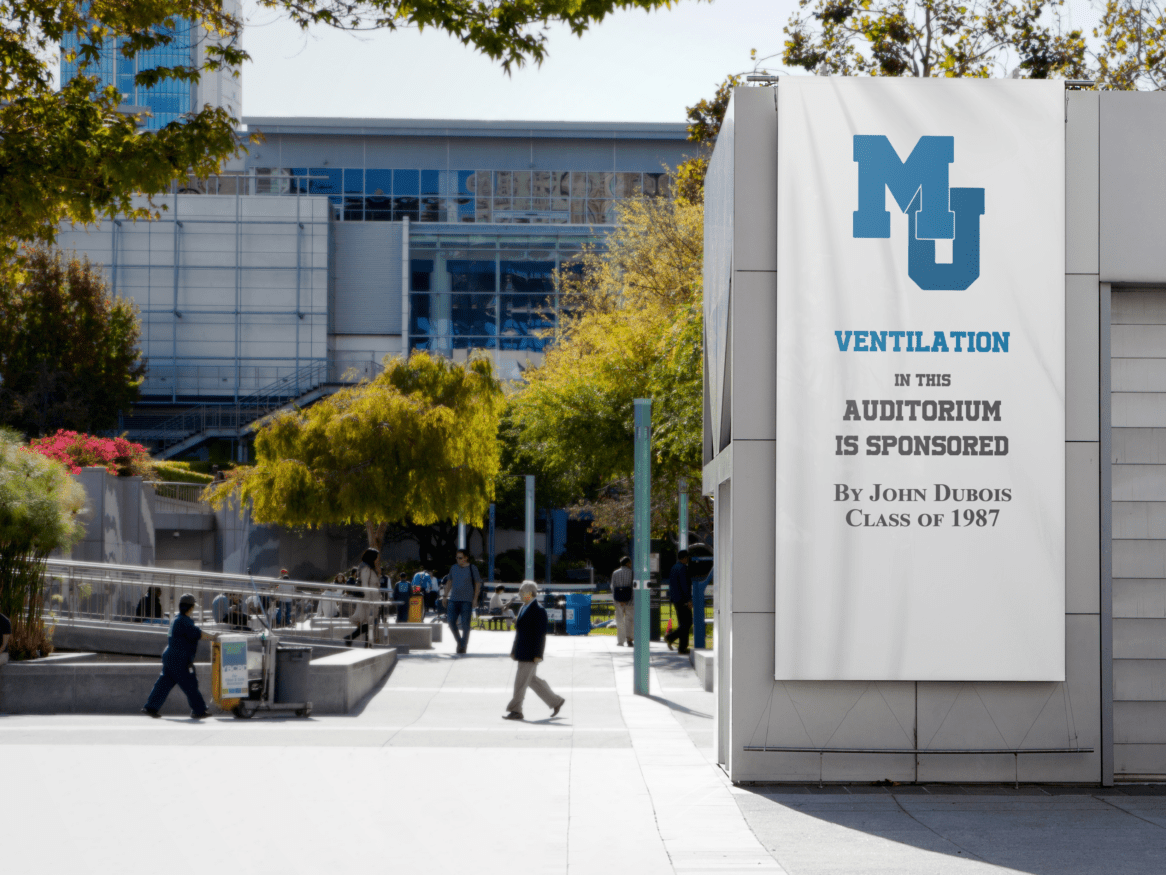 When large donations pour into universities, what happens next? Usually, the university attaches a plaque with the donors name to a key building like the football stadium, basketball arena, student union, or library…proudly displayed for all to see.
These donations drive our institutions forward— funding cutting edge research and providing much-needed scholarships to aspiring students. But there's an important, albeit less flashy, place that tomorrow's donors should consider sponsoring: the campus mechanical systems.
Here's a plaque you don't see very often:
"Ventilation in this auditorium is sponsored by John Doe, Class of 1987".

 
Never in the history of higher education has the performance of mechanical systems been more important than today. That's because several massive shifts are occurring all at once for campus facility management teams:
Changing Workforce: Buildings, and the people who keep them running, are aging. As these building operators retire, it's becoming harder to find new talent and transfer that institutional knowledge to the "next class." Additionally, facility teams are being asked to do more with less in a post-COVID world.
Sustainability: Universities are making aggressive energy and greenhouse gas emissions reduction commitments, which drive scrutiny on the HVAC systems that consume large portions of campus utility usage.
Indoor Air Quality: Ventilation quality and quantity is a key component of the successful return to campus during and after the COVID-19 pandemic.
Data Transfer: When new buildings come online, the handover between the construction team and the operations & maintenance (O&M) team is important in ensuring that all of the above standards are met.
At the same time, budgets for these non-flashy items, which are often hidden away in the guts of campus, can be hard to come by. To squeeze more out of shrinking or fixed budgets, more and more campuses are gravitating towards new technology. Specifically, fault detection and diagnostics (FDD) tools help these teams prioritize their spending on the mechanical issues that matter most and extend the operational life-cycle of HVAC assets. 
How can building analytics tools help with the challenges above? Why does the second "D"(diagnostics) in FDD matter so much in producing results with this technology? Finally, how can higher education operations, maintenance and energy teams better leverage building analytics software?
How Operations and Maintenance Teams Can Leverage Building Analytics Software for Better FDD 
For O&M teams, doing more with less often means two different challenges. First, their teams are often short-handed and not able to devote time to all the maintenance activities they'd like to. Second, the most experienced people on the team are retiring. 
Meanwhile, each new building and system that comes online is getting more and more complicated as local energy codes become more stringent and complex designs become more prevalent. Systems have more moving parts, more operating modes, and more data coming off of them than ever before. 
Building analytics software can help higher education facility teams to:
Shift from institutional knowledge to shared knowledge 
Shift from reactive to proactive maintenance
For many years, campuses have relied on the institutional knowledge of technicians that have been around for decades. These guys are akin to HVAC whisperers. They can detect that slightly different sound coming from a chiller that tells them something is wrong. Or they can intuit exactly which piece of wood to stick in the damper to keep the AHU limping along. And because of their importance to campus O&M teams, we've glorified these uncanny abilities. 
But those guys don't grow on trees. Shifting to shared knowledge means using analytics software to augment the skills of less experienced team members and still detect issues and analyze today's complicated systems. 
In the shift from reactive to proactive maintenance, building analytics software can help O&M teams by focusing their limited time and resources on the highest impact activities. To illustrate an extreme example:
---
If a technician has one hour to spend, should they travel across campus to troubleshoot a minor hot/cold call or should they fix that steam valve that's leaking and wasting $10,000 per month?

---

How Campus Energy Management Teams Can Leverage FDD
Universities are making aggressive energy and greenhouse gas emissions reductions commitments, which then drive scrutiny on the mechanical and electrical systems that consume large portions of campus utility usage. 
Often, campus energy management goals will drive investment in lighting retrofits, variable frequency drive upgrades, and retrocommissioning (RCx) projects. However, once these efforts are off the ground, energy managers usually ask, "What's next?".
Building analytics software can take energy management programs to the next level in three major ways:
It connects the dots between whole building energy benchmarking against goals and the actual performance of individual systems. This allows energy managers to find the signal in the noise—quickly identifying outlier buildings and then zooming in on the underlying system faults causing excess consumption. 
It helps perform ongoing verification of energy savings and prevents the notorious energy drift that happens after energy improvement projects. Drift occurs when energy consumption gradually rises due to overridden control sequences or physical malfunctions. Analytics software automatically identifies and diagnoses these issues in real-time, allowing staff members to mitigate them before they turn into drift. 
It centralizes and operationalizes retro-commissioning via an analytics-driven, monitoring-based commissioning process. This drives more energy savings across campus than the traditional (and resource-intensive!), one-building-at-a-time, method of retro-commissioning. It also reduces the dependence on outsourced commissioning agents that can be hard to come by in rural university areas.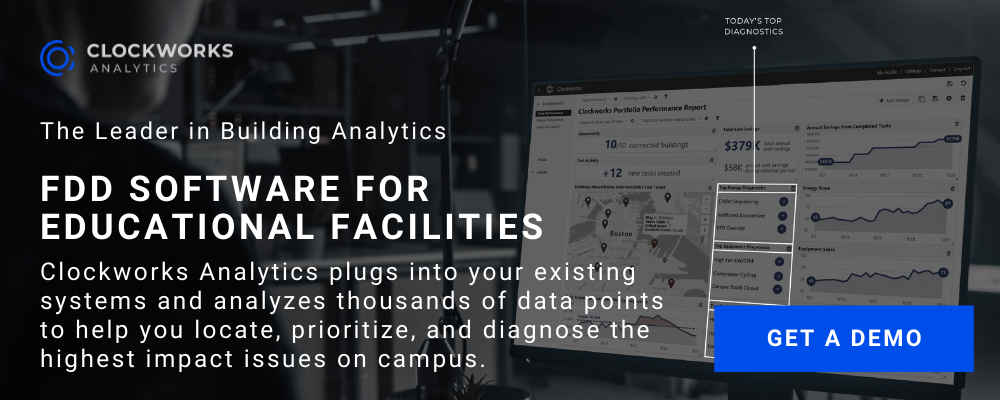 How Other Teams Across Campus Can Leverage FDD
There are several other use cases for building analytics beyond O&M and Energy Management. These include COVID-19 risk mitigation, new building commissioning, and supporting the educational mission. Let's walk through each of these. 
COVID-19 Risk Mitigation on Campus
Mechanical system ventilation is a key component to a successful return-to-campus. Most people don't realize that even buildings with upgraded filters are not meeting indoor air quality guidelines. Campus virus mitigation task forces can use FDD to locate the individual rooms with ventilation issues. Since large campuses have thousands of rooms, and hundreds of air handling units providing ventilation, this ability to sift through data to find the needle-in-the-haystack is extremely valuable. 
New Building Commissioning
Analytics can help ensure mechanical systems are working properly for new building construction and renovation projects. This not only helps the construction project management team, but also bridges the gap between the construction and O&M teams, ensuring a successful handover and start to the operation of those new spaces. 
Supporting the Educational Mission
Analytics software helps support the educational mission of the university through energy and operational data sharing with students and researchers. This can take several forms, including public dashboards and websites, public databases, or software-driven energy reduction competitions between departments or dormitories. 
The benefits of FDD spread across different departments on campus. This is why diagnostics are crucial: Campus teams have unique insight into managing buildings at scale. Scale really brings out the shortcomings in fault diagnostic tools. Scale necessitates prioritization, accurate automated M&V, and the ability to direct building operators to the root causes of the highest priority issues.
Interested in learning more about using building analytics software to better diagnose operations and maintenance issues on campus, as well as improve energy performance? 
Back to blog