Facility Service Providers: How to Transition to Diagnostic-Driven Contracts
September 7, 2021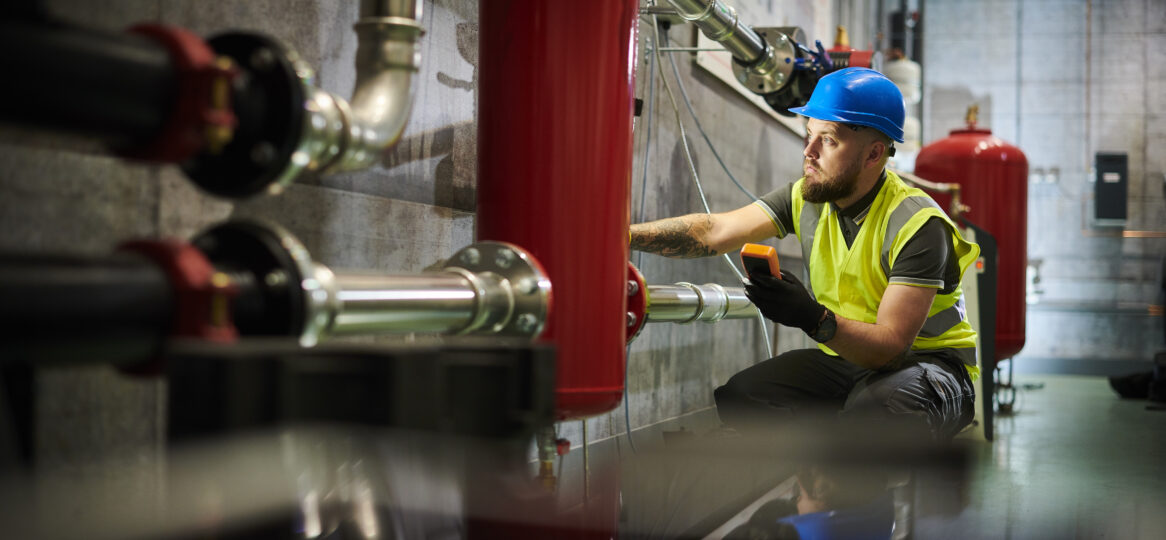 In our last post, we described how analytics can transform controls and mechanical service contracts. While that post glossed over the transition period from the status quo to digital, this one explains just that: how leading facility management service providers are making the move to digital, proactive services.
Despite the urgency required to stay ahead of the competition, these leaders have realized that transformation doesn't happen overnight. It's a process to move from time-based preventative maintenance contracts—or time and materials – block hours— to data-driven, proactive maintenance with more frequent remote touch points and targeted diagnostic driven service visits.
Below we will explore the three stages of transition required to shift from the status quo of traditional service contracts to predictive, continuous monitoring.
The Status Quo of Facility Service
Before we unpack the crawl, walk, run phases, let's level set on the status quo. With the standard approach to service visits, the provider schedules, say, four trips per year.
When the technician shows up for the quarterly visit, they take out their checklist and simply run through it:
☑ Check the alarms in the BMS
☑ Run PM checklists on the major equipment
☑ Deliver a report that says, "We looked at X, Y, and Z."
☑ With this approach, you might do a few hundred checks per year.
But "checking things" is what analytics software does best. How can the technician leverage the ability for the software to perform thousands of checks…per day? In addition, doing checks doesn't directly lead to long-term value for your client. How can technology help you prove your strategic value year after year?
Let's dive in.
Level 1: Enhanced Preventive Maintenance
Let's explore how a technician can leverage the power of building analytics software. This is the "crawl" step towards service transformation: Before they show up for that quarterly preventive maintenance visit, they open Clockworks and review a list of the highest-impact tasks they could complete during their upcoming PM.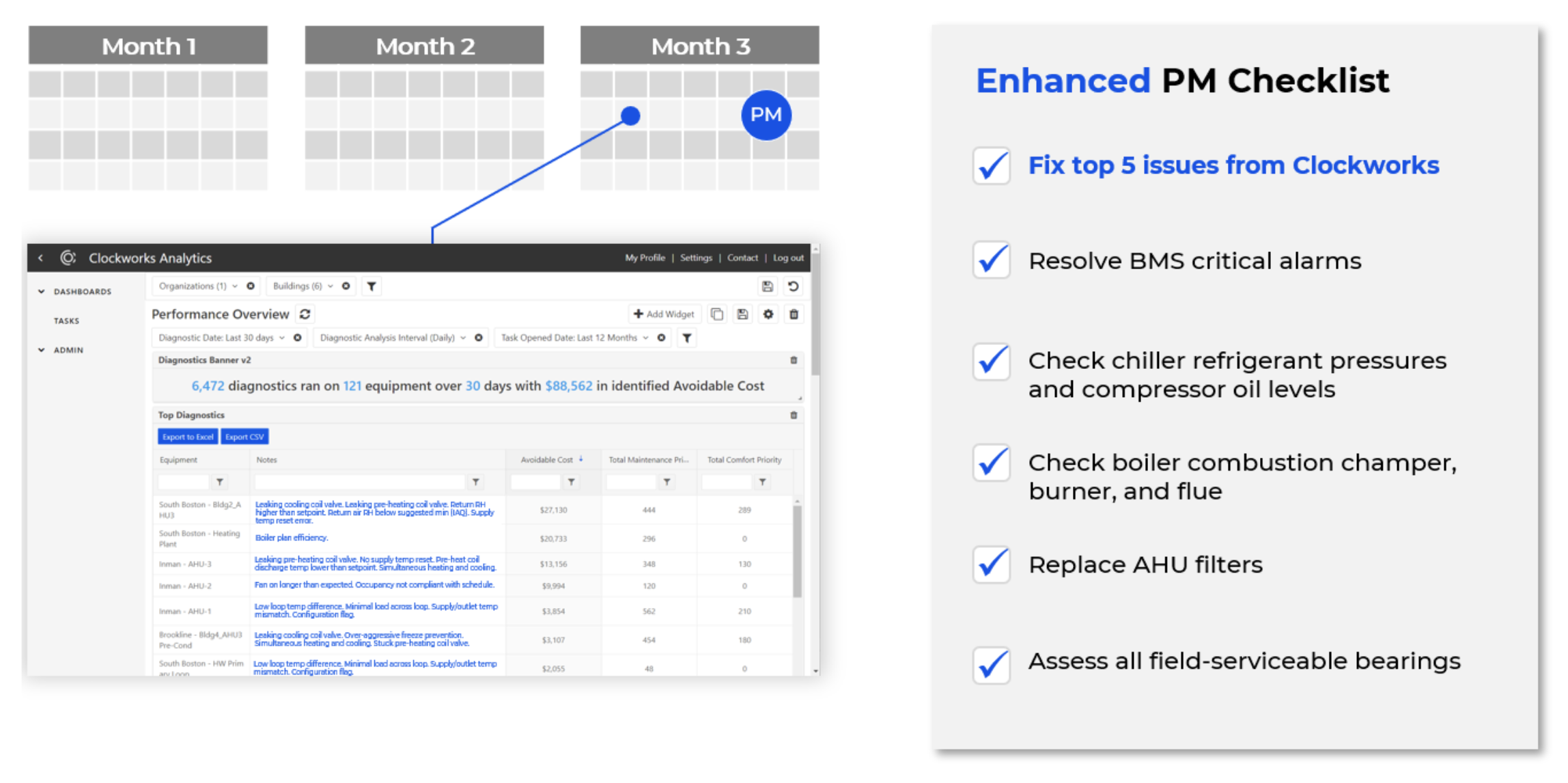 The engineer can then take their service visit checklist and front-load it with prioritized tasks to complete, not things to check. Once the highest-priority issues are fixed, they can get back to cleaning and greasing bearings and all the other regular maintenance items we can't analyze with data.
The beauty of this as a first step is that there's no need to change the scope of the service. We suggest that partners in this stage identify the top 10% of clients that are forward thinking and will quickly see the value in FDD-powered maintenance.
There are 4 options here:
Sell the FDD service stand alone and once there are findings, use those findings to justify a service contract.
Sell the FDD service as an add-on to an existing maintenance contract based on the added performance benefits and reducing clients maintenance headaches.
Bake the FDD service into contracts as an up-sell when those agreements come up for renewal.
Use FDD as a differentiator when competing for new service contracts.
Level 2: On Demand Proactive Maintenance
Those that rise to Level 1 will realize an immediate improvement in the results they're driving for their customers. They will also quickly notice one huge, new opportunity. Of those top-five issues that the Building Analytics software flagged the week of the quarterly PM visit, how many had been affecting building performance for a month, two months, three months? And what if they could be solved without the delay of waiting for an on-demand service visit?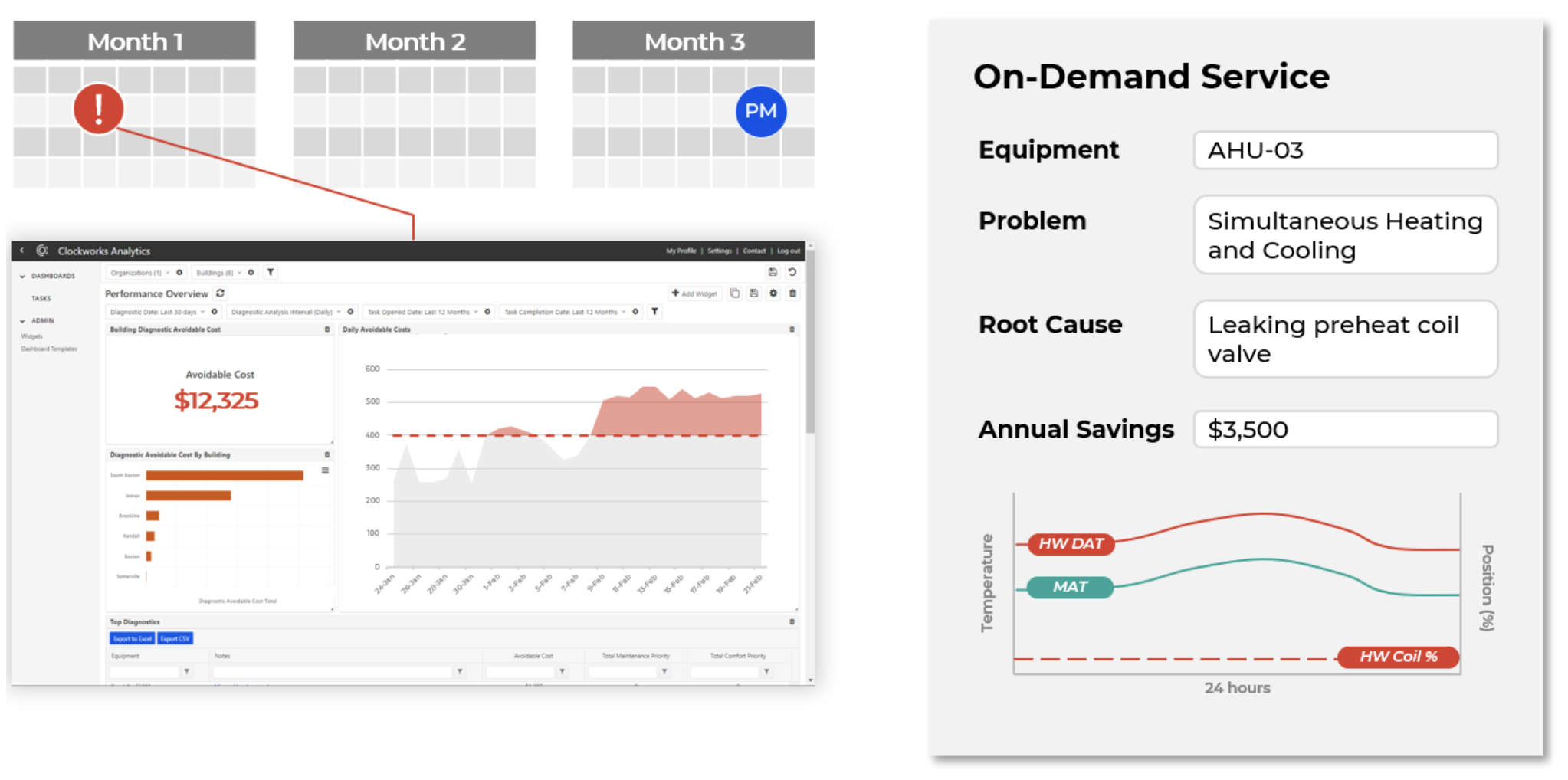 This next level in the transformation, the "walk" step, is to work together with the building owner to create a process that allows the technician to come back out and fix the highest priority issues between quarterly visits.
Imagine that every week, the client gets an automated report with five critical issues that the service team is available to fix on-demand. And if the terms are worked out in advance, the client has an easy button to approve and fund the extra site visit. The revenue from these on demand service trips will fund the cost of a platform like Clockworks and then some.
In this stage we suggest that partners adjust service contracts to reduce on-site services, increase remote services, and focus on pull-through work.
—REQUEST A DEMO OF CLOCKWORKS' BUILDING ANALYTICS SOFTWARE—
Level 3: Building Operations Center with Remote Monitoring
Once the Level 2 model is proven with a client or two, it's time to start "running." Level 3 is to do it at scale across your entire client base. Create a remote monitoring and building operations center, and define the processes required to leverage Building Analytics across the whole fleet:
A standard analytics-driven service contract
A common set of performance metrics
A common set of diagnostic types and the ability to rank those across many clients or buildings
Now, the entire concept of calendar-based maintenance can really be transformed to condition-based maintenance, with several ROI-justified on-demand service visits throughout the quarter for each client.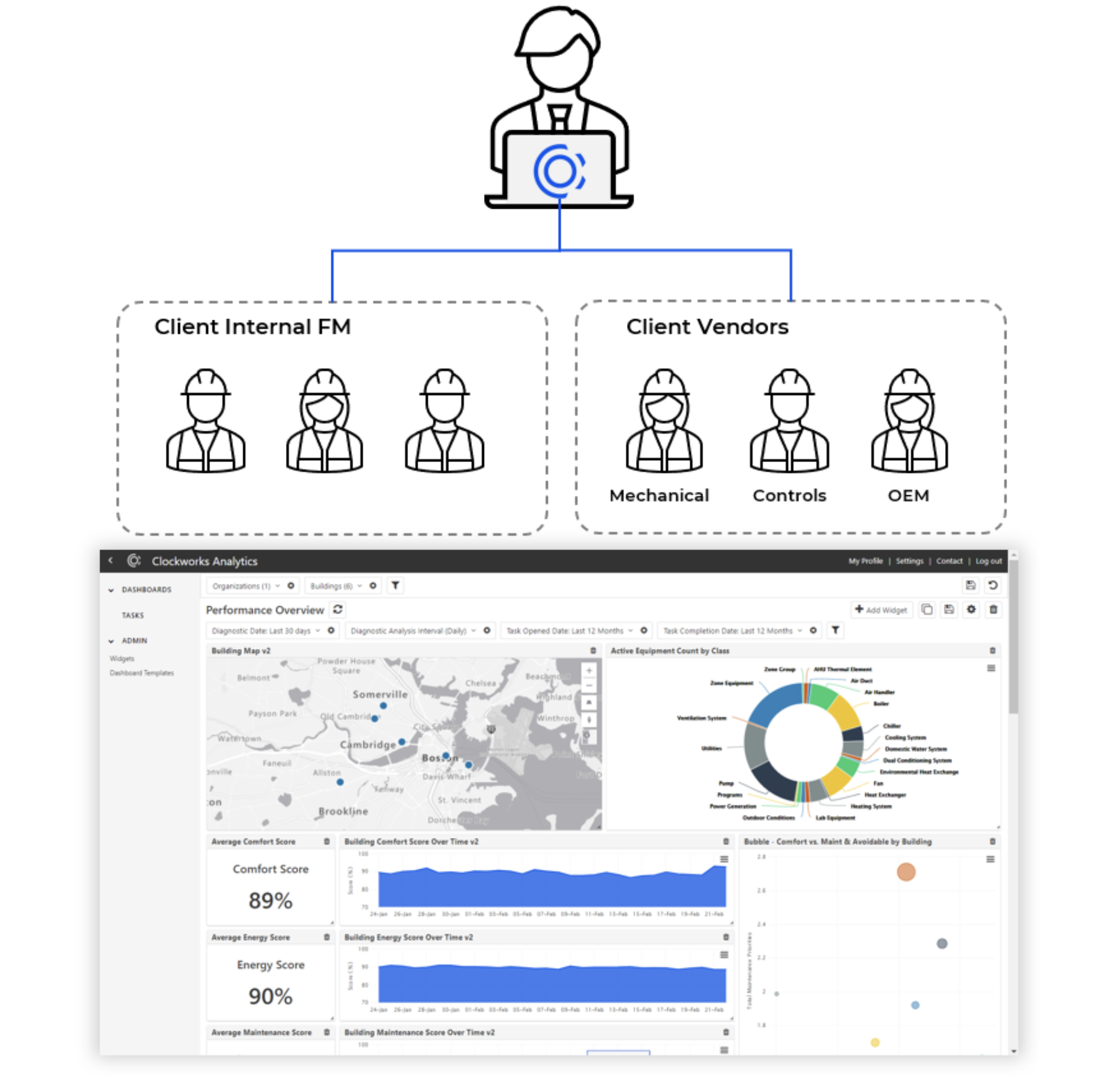 Once you reach this phase, you can start to do work that might have previously been outside of your scope. For example, if you're currently only doing controls service, you could start to do the mechanical work that was flagged on the Clockworks priority list. And when the existing mechanical service providers' contract ends, you're in position to add that to your scope. Or vice versa. Now that Clockworks is flagging energy conservation measures automatically, you can offer energy optimization services explicitly, re-engineer sequences, or drive capital upgrades—either as a high value consulting service, or a turnkey implementer depending on your in house resources.
The Byproducts of Facility Service Transformation
As a result of the service team fixing the highest-priority issues immediately after they sprout up, the building owner will undoubtedly start to see energy and O&M savings. Instead of reports on what checks were completed, the team will be able to report on verified energy savings, avoided equipment failures, and more.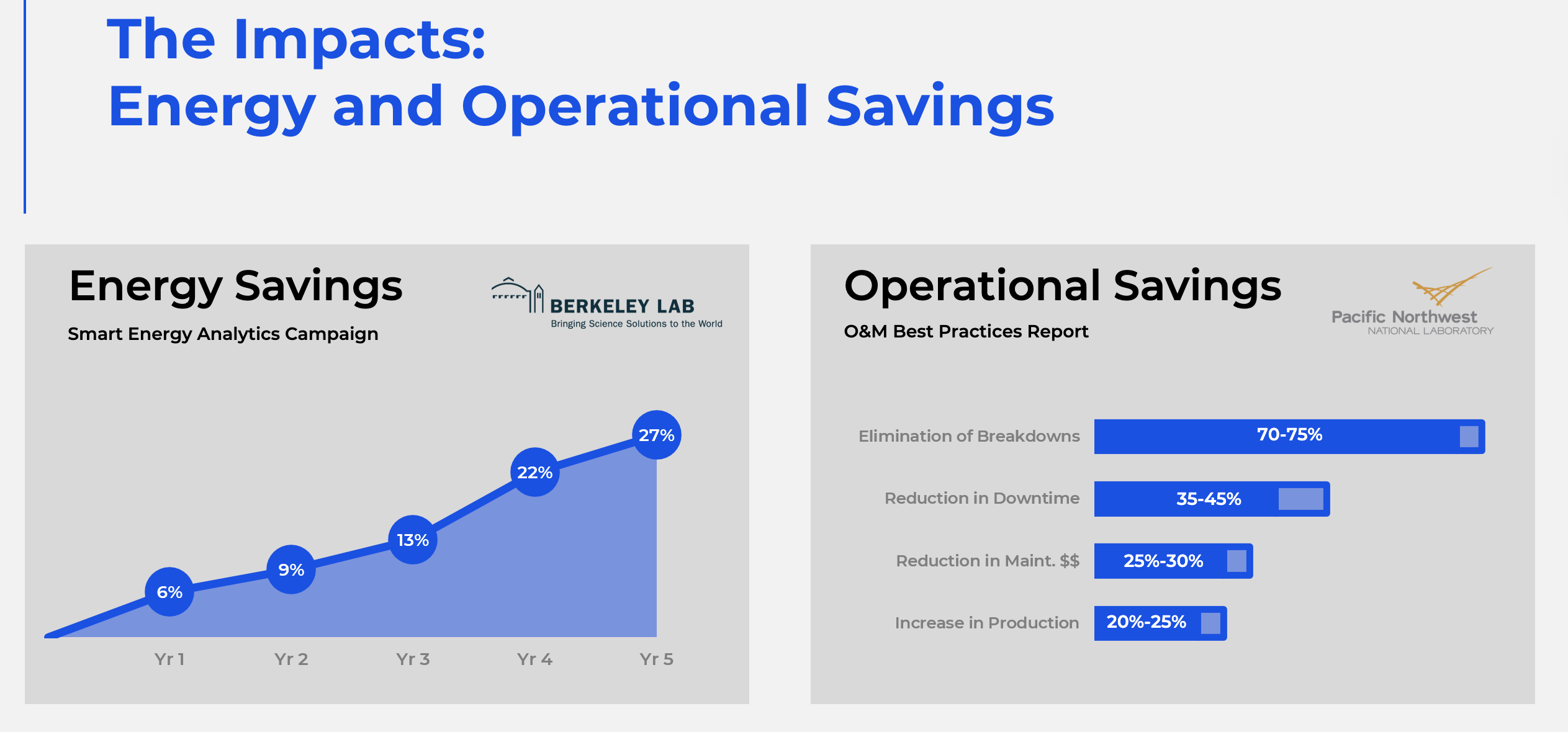 Ultimately, it's about transitioning from being the facility service team that's called only when there is a problem to fix, to being:
✔ The team that's driving long-term value for your clients
✔ The team that's highlighting the risk factors your clients are facing
✔ The team that's strategically helping them understand the operation of their facilities
Many O&M service providers are already making this transformation. Analytics-driven FDD is the key. When done right, the benefits to your organization (such as remote analysis, standardized procedures across offices, more pull-through revenue) are immense.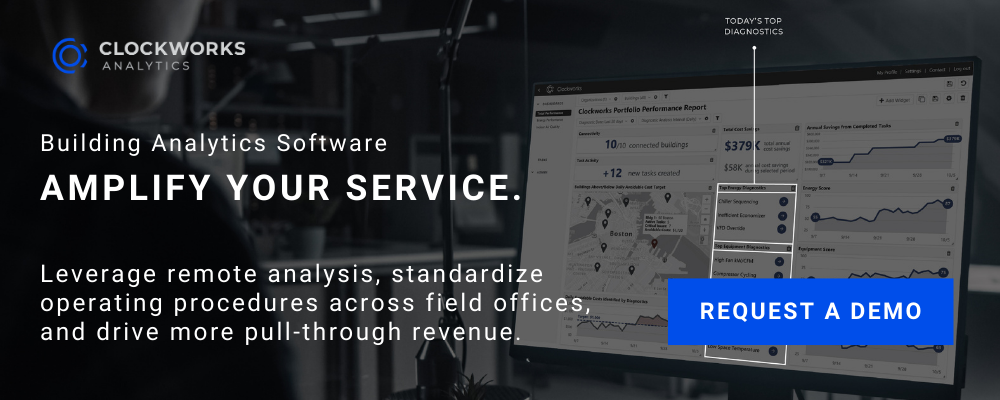 Back to blog