Fault Detection & Diagnostics for Healthcare Facilities
December 8, 2021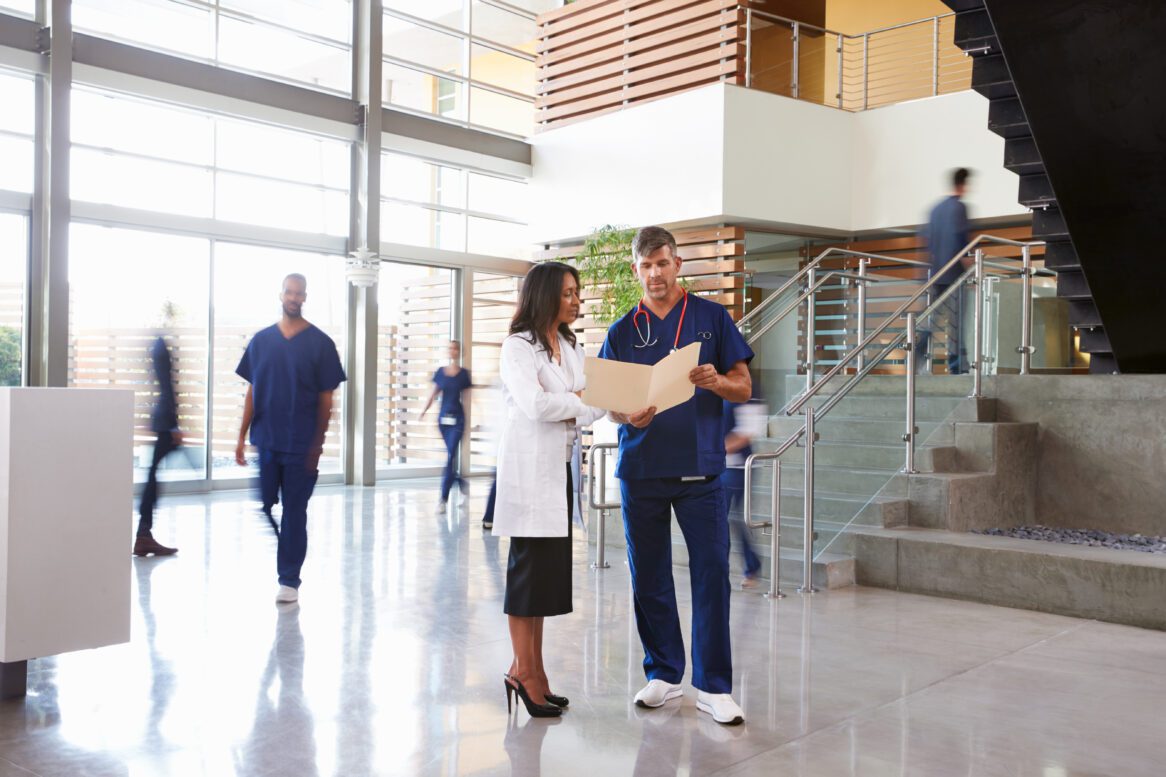 When donations pour into healthcare organizations, what happens next? Typically, the money goes to a new emergency wing or MRI machine—with a shiny plaque proudly displayed for all to see.
These donations drive our healthcare systems forward—funding cutting edge equipment and expanding access to more community members. But there's an important, albeit less flashy, place that tomorrow's donors should consider sponsoring: the mechanical systems.
Here's a plaque you don't see very often:
"Ventilation in the Medical Center is sponsored by the John Doe Foundation."
Never in the history of healthcare has the performance of mechanical systems been more important than today. That's because several massive shifts are occurring all at once for healthcare facility management teams:
Changing Workforce: Buildings, and the people who keep them running, are aging. As these building operators retire, it's becoming harder to find new talent and transfer that institutional knowledge to newcomers. Additionally, facility teams are being asked to do more with less in a post-COVID world.
Sustainability: Healthcare systems are making aggressive energy and greenhouse gas emissions reduction commitments (just look at the recent initiative from Kaiser Permanente to become the first carbon neutral healthcare system in the U.S.), which drive scrutiny on the HVAC systems that consume large portions of utility usage.
Code Compliance & Indoor Air Quality: Ventilation quality and quantity has always been a key component of JCAHO compliance and successful healthcare facility management—even more so after the COVID-19 pandemic.
Transfer to O&M: When new buildings and renovations are being planned and when they eventually come online, the handover between the construction team and the operations & maintenance (O&M) team is important in ensuring that all the above standards are met.
At the same time, budgets for these non-flashy items—which are often hidden away in the guts of a healthcare campus—can be hard to come by. To squeeze more out of shrinking or fixed budgets, more healthcare systems are gravitating towards new technology. Specifically, fault detection and diagnostics (FDD) tools help healthcare teams prioritize their spending on the mechanical issues that matter most, ensure reliability in critical spaces, and extend the operational life cycle of HVAC assets.

This blog post outlines how building analytics tools help with the challenges above and why understanding the second "D" (diagnostics) in FDD matters so much in producing results with this technology.
How Healthcare O&M Teams Can Leverage Building Analytics Software for Better FDD
For Operations and Maintenance Teams (O&M) teams, doing more with less often means two different challenges. First, their teams are often short-handed and not able to devote time to all the maintenance activities they'd like to. Second, the most experienced people on the team are retiring.

Meanwhile, each new building and system that comes online is getting more complicated as local energy codes become increasingly stringent and designs become more complex. Systems have more moving parts, more operating modes, and more data streaming off them than ever before.
Building analytics software can help healthcare facility teams in two major ways:
Shift from institutional knowledge to shared knowledge
Shift from reactive to proactive maintenance
For many years, healthcare facilities, hospitals and medical office buildings have relied on the institutional knowledge of technicians that have been around for decades. These guys are akin to HVAC whisperers. They can detect that slightly different sound coming from a chiller that tells them something is wrong. Or they can intuit exactly which piece of wood to stick in the damper to keep the AHU limping along. And because of their importance to healthcare O&M teams, we've glorified these uncanny abilities.

But those guys don't grow on trees. Shifting to shared knowledge means using analytics software to augment the skills of less experienced team members and still detect issues and analyze today's complicated systems.
In the shift from reactive to proactive maintenance, building analytics software can help O&M teams by focusing their limited time and resources on the highest impact activities. To illustrate an extreme example:
How Healthcare Energy Management Teams Can Leverage FDD
Healthcare systems are making aggressive energy and greenhouse gas emissions reductions commitments, which then drive scrutiny on the mechanical and electrical systems that consume large portions of utility usage.
Often, energy management goals will drive investment in lighting retrofits, variable frequency drive upgrades, and retro-commissioning (RCx) projects. However, once these efforts are off the ground, energy managers are usually asked by financial leadership, "What's next?"
Building analytics software can take energy management programs to the next level in three major ways:
Building analytics software connects the dots between whole building energy benchmarking against goals and the actual performance of individual systems. This allows energy managers to find the signal in the noise—quickly identifying outlier buildings and then zooming in on the underlying system faults causing excess consumption. Prevalent examples of faults include erroneous sensors, stuck or faulty dampers, stuck or faulty valves, and inefficient control sequences.
Building analytics software helps perform ongoing verification of energy savings and prevents the notorious energy drift that happens after energy improvement projects. Drift occurs when energy consumption gradually rises due to overridden control sequences or physical malfunctions. Analytics software automatically identifies and diagnoses these issues in real-time, allowing staff members to mitigate them before they turn into drift.
Building analytics software centralizes and operationalizes retro-commissioning (RCx) via an analytics-driven, monitoring-based commissioning (MBCx) process. This drives more energy savings across campus than the traditional (and resource-intensive!), one-building-at-a-time method of RCx. It also reduces the dependence on outsourced commissioning agents that can be hard to come by for healthcare facilities in rural areas.
REQUEST A DEMO OF CLOCKWORKS' BUILDING ANALYTICS SOFTWARE
How FDD Helps Manage Code Compliance & Indoor Air Quality
Long before the COVID-19 pandemic brought more attention to the importance of indoor air quality, it has been mission-critical to healthcare systems. Proper ventilation is paramount to ensuring patient safety and complying with local health and safety regulations.

Luckily, Clockworks' clients can leverage what they already have in the building to identify and address the hidden issues in the HVAC system that can be the Achilles heel of IAQ performance. The screenshot below shows an example of all the issues from the past seven days across the portfolio of one of our healthcare system customers. As you can see, they were instantly able to identify that ~18% of their Air Handlers had a current IAQ issue.

Typical faults or issues include loose set screws, program overrides, and stuck dampers. They happen every single day in buildings and can be the root cause of an entire floor not receiving the required ventilation levels to meet code and keep occupants safe. These insights can help maximize the uptime of the building's most critical spaces.

For healthcare facility operations and maintenance teams, we also take that capability one step further. We provide dashboards focused on critical zones deviating from required relative humidity, temperature, and differential pressure requirements, with linked diagnostics illustrating the root cause of these deviations.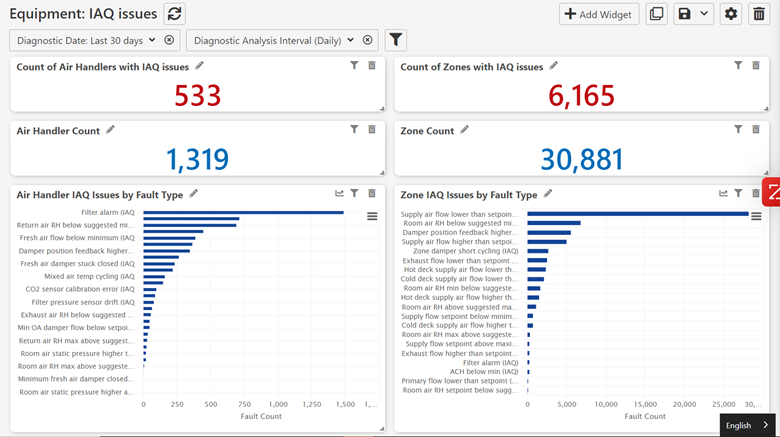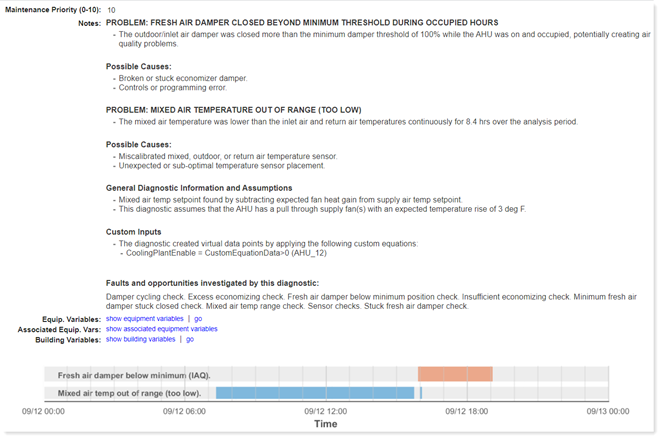 Since large healthcare campuses have hundreds of rooms—and potentially hundreds of air handling units—providing ventilation, this ability to sift through data to find the needle-in-the-haystack is extremely valuable. The root causes of issues preventing proper IAQ are never more than a few clicks away.
---
Building Analytics Comparison Guide
for Healthcare O&M Teams
An in-depth guide to transformational fault detection & diagnostics (FDD). Learn how true diagnostics can help you:

• Prioritize faults across all your buildings (often in the thousands!)
• Reduce time required for human investigation and easily transition to a work order
• Accommodate the diversity of systems and reduce false positives
---
How FDD Helps Transfer New System Knowledge to the O&M Team
Healthcare systems are constantly reinvesting in their portfolios to continually provide a higher standard of care. This translates to new patient wing renovations, new emergency room wings, and new urgent care facilities. Buildings are frequently bought and sold, which means new systems for the O&M team to take care of once the project is complete.
Analytics can help ensure mechanical systems are working properly for new building construction and renovation projects and handovers to the O&M staff. This not only helps the construction project management team, but also bridges the gap between the construction and O&M teams. Ultimately, ensuring a successful handover and start to the operation of those new spaces.
Building Analytics for the Whole Healthcare Organization
Clockworks Analytics supports analytics use cases like these at healthcare systems around the world. At the time of writing this blog post, our FDD software is connected to 74,299 pieces of equipment in 294 healthcare facilities and has identified $3,006,871 USD in avoidable cost from 55,591 equipment faults in the past 12 months alone. O&M teams and their partners have completed 2,171 tasks and driven $1,105,220 USD in avoided costs during that time.

In our work with these organizations, we've learned that healthcare facilities teams have unique insight into managing buildings at scale. This is why diagnostics are crucial: Scale really brings out the shortcomings in fault detection and diagnostic (FDD) tools. Scale necessitates prioritization, accurate automated M&V, and the ability to direct building engineers to the root causes of the highest priority issues.

As we've detailed in our whitepaper comparing Fault Detection and Diagnostic (FDD) tools, diagnostics provide a faster time to value, allow O&M teams to shift from reactive to proactive maintenance, keep critical spaces compliant, and reduce dependence on engineers. And as we've shown, these benefits spread far beyond energy savings and impact many different departments at large healthcare organizations.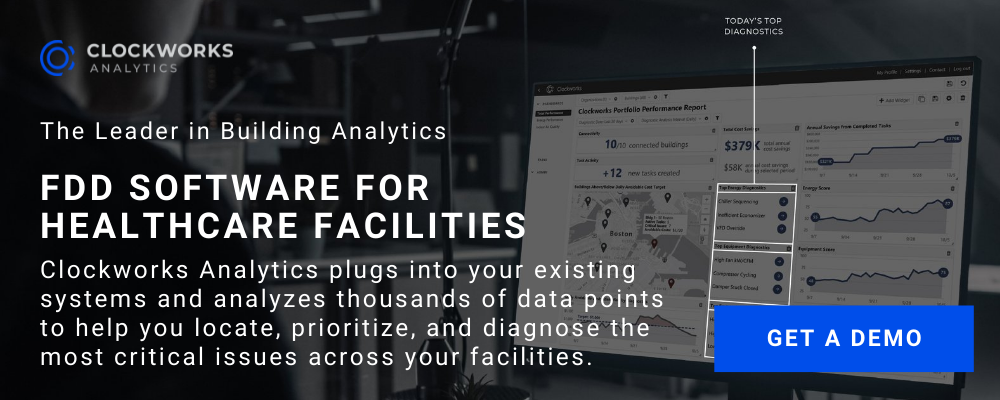 Back to blog