From Energy Management to Indoor Air Quality, Building Analytics are Driving Performance
October 6, 2021
At least 30% of Fortune Global 500 corporations have made a public commitment to be carbon neutral by 2030 by either using 100% renewable power or meeting a science-based internal emission reduction target. This represents a five-fold increase since the Paris Accords were signed in 2015. And new announcements are happening all the time. Climate action no longer sits in the "optional" category of corporate responsibility.
Since building operations represent 28% of global greenhouse gas emissions, these commitments will need to trickle down to facilities management. That's not all—in our cities at least, there are rising expectations that the buildings where we work, shop, and live are actively doing something about climate change. And with local laws like New York City's Local Law 97, building owners are now expected to meet energy efficiency and savings targets to meet new regulations and avoid heavy fines.
Behind-the-meter energy use optimization using building analytics software is a critical part of the strategy to meet these commitments, ever-growing expectations, and new regulations. There's a growing level of industry momentum and countless high-profile case studies, such as the 2020 results of the US Department of Energy's four-year Smart Energy Analytics Campaign, where analytics software drove a median 9% energy savings on 6,500 buildings across the US.
While the energy savings can seem like a no-brainer, the operations and maintenance (O&M) teams running our buildings often lack the time and attention needed to prioritize energy efficiency. Luckily, analytics help them with several other items on their to-do lists too, such as data-driven equipment maintenance and preventing equipment breakdowns.
And since the spring of 2020 when the pandemic hit, the most timely issue analytics helps with is indoor air quality (IAQ). IAQ was important before the pandemic, but now it has hit the mainstream. Building owners everywhere want to keep their occupants safe, while keeping their business or mission afloat. When the pandemic hit, they wanted to prioritize the IAQ issues that analytics software was already diagnosing in their buildings. 
Now, in 2021, awareness of IAQ has only continued. Joe Allen, Harvard's IAQ expert and author of the book "Healthy Buildings", has a seemingly regular segment on CNN. There are indoor air quality certifications and guidelines from organizations like ASHRAE, RESET, WELL, AirRated, UL Healthy Buildings, and more. We recently saw the emergence of the Alliance for Sustainable and Practical Indoor Air Quality in Real Estate (ASPIRE)—a first-of-its-kind coalition created to help commercial and institutional building operators and designers achieve data-driven and practical IAQ objectives. And there are new products on the market meeting this rising awareness, including a proliferation of IAQ sensors.
Analytics software helps O&M teams analyze all this data. It's vital to understand how your HVAC systems are performing if you want to manage, not just monitor, your IAQ. For example, what if sensors show high CO2 levels indicating a lack of proper ventilation? The next step for the facility O&M staff will be to investigate the root cause. They'll likely start with the local variable air volume (VAV) boxes serving the specific room where the sensor is. If the problem isn't there, they'll need to investigate further upstream to the air handling unit (AHU) serving that floor.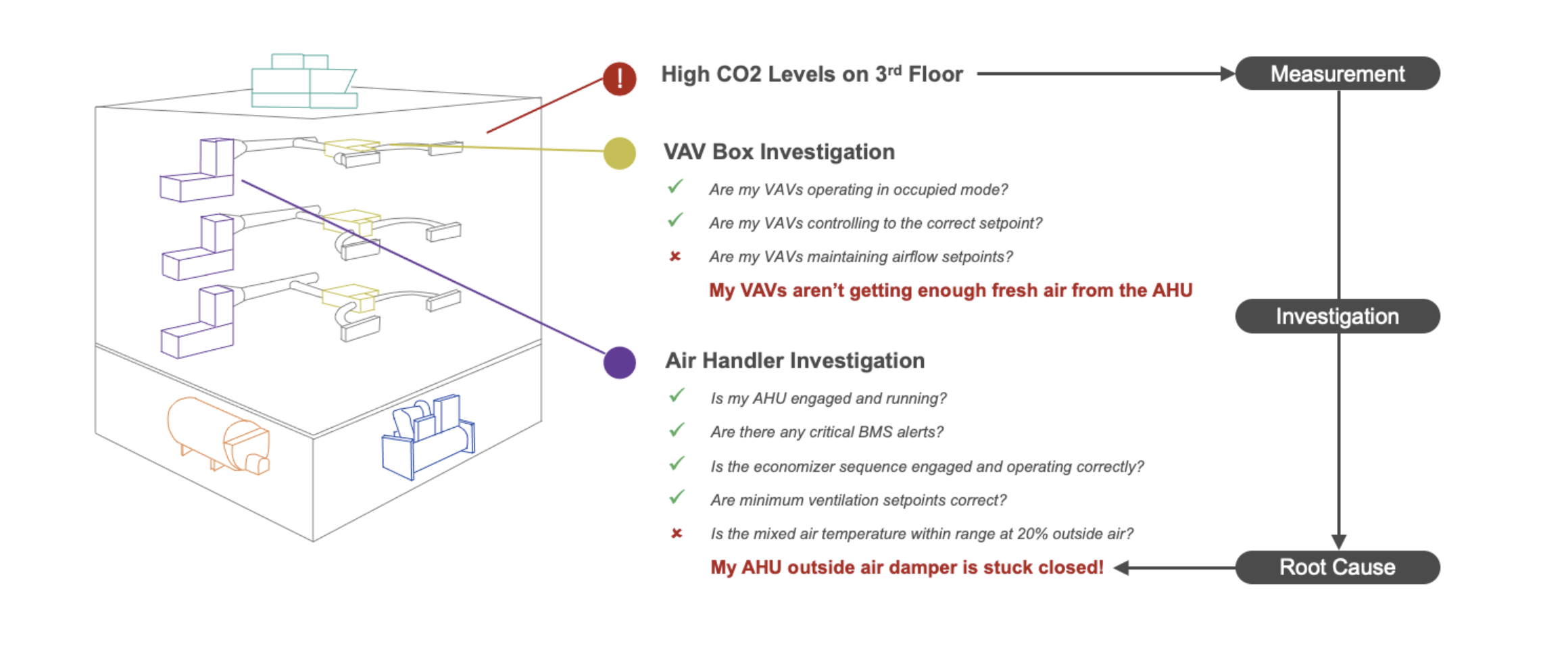 Quite simply, building analytics software with fault detection and diagnostics (FDD) takes care of this investigation and root cause determination for the already over-extended O&M team. That's why it's so vital for IAQ performance. Over the last year, we at Clockworks Analytics have seen O&M teams leverage FDD capabilities to fix IAQ issue after IAQ issue-, including stuck fire dampers, programming overrides, loose set screws, CO2 sensor errors, out-of-tune damper control loops, and air flow sensor calibration errors.
A prime example is at a large, public university. Using a centralized FDD system, they're able to look across their 400+ AHUs and ~10,000 HVAC zones to pick out and prioritize diagnostics to go out and fix.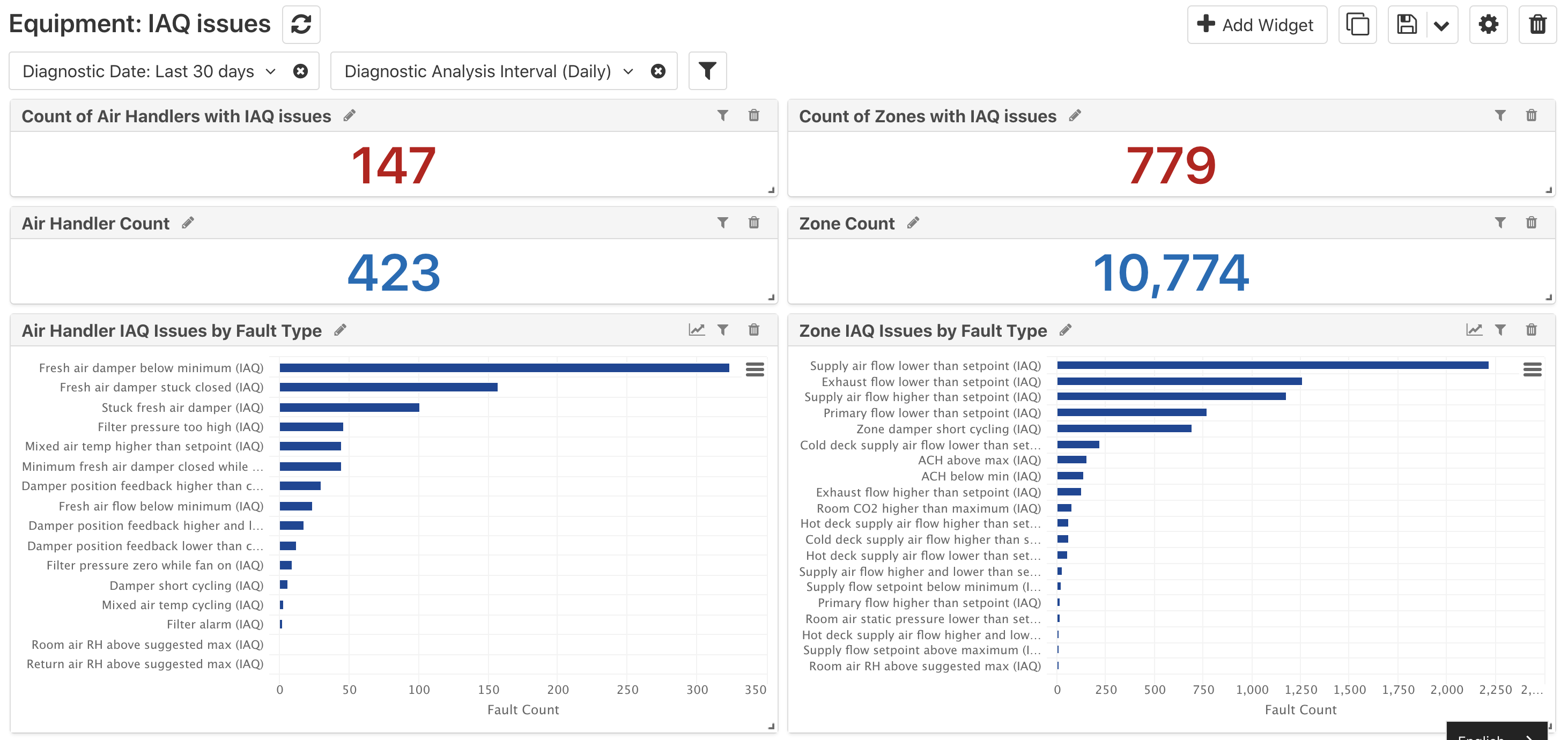 With this O&M team spread across all these units, it's hard to imagine them having time to investigate and diagnose each of these issues one by one. That's why they rely on clear building analytics to bubble-up, diagnose, and show them the highest priority issues. As more of the world returns to buildings and campuses, FDD functionality has become necessary for diagnosing hidden IAQ issues. When we looked at our entire global client base over a one-week period, which includes 81,000 HVAC zones, 10% had one of the IAQ issues listed above.
In the course of history, some of the most impactful innovations happened accidentally. Building analytics can provide a wide range of benefits, and the one that has often been focused on—for good reason—relates to building energy use. And as valuable as those have been, in the wake of an unprecedented pandemic, we are extremely lucky that the systems used to identify energy issues have been able to pave the way for flagging building ventilation problems — ensuring that the environment, inside the building and out, is as healthy as possible.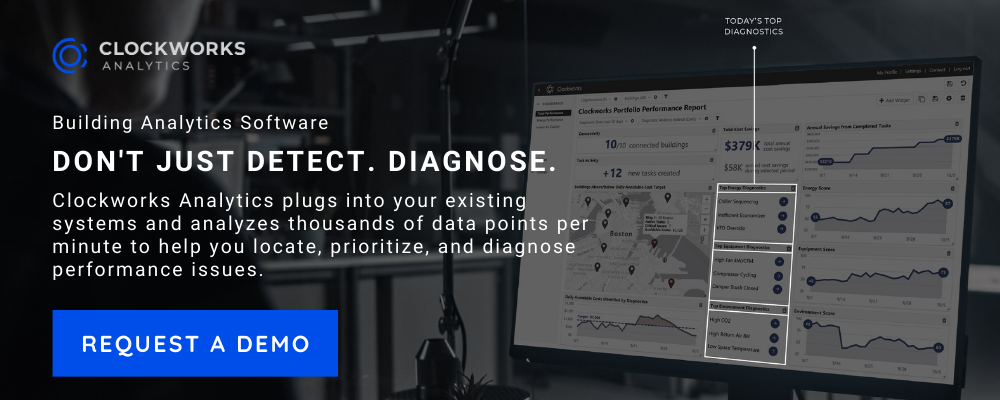 Back to blog