The Clockworks View of Data – and Our Vision of the Future
March 15, 2022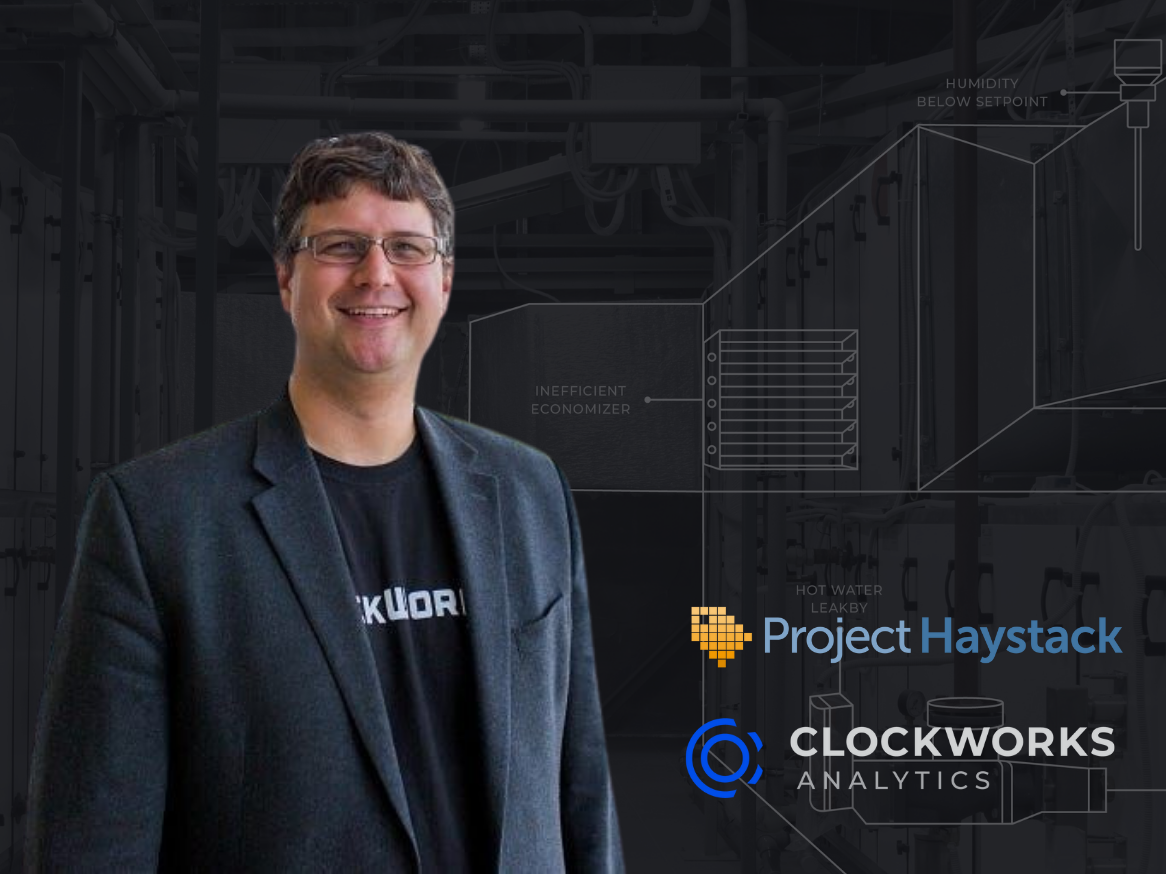 Data surrounds us. It's in the cars we drive, the computers we rely on, the phones we use to communicate. We don't always see it, but it's there. At Clockworks Analytics, we rely on this data to be one of our product's bedrocks and to help us improve the lives of those who live and work in the buildings we support. We know its value. We see the promise it holds to make tasks ranging from the mundane to the monumental, easier. But data provides no value unless it can be "freed" from the device in which it resides. There's no value in data unless it can be acted on and made to work with other systems.
To that end, I'm happy to announce that I've been appointed as Co-Executive Director of Project Haystack. Our company has learned a great deal about building data through the Clockworks platform. We've also picked up a lot of hard-won knowledge on information modeling, including insight into point types, equipment templates, inferred meanings, and calculated metrics. We have been developing an extensive and comprehensive global information model for Clockworks for over 12 years. We've tested our model on hundreds of thousands of equipment in buildings all over the world.
Said another way, we help customers learn and act about their building data using a unified, global information model that is highly configurable to adapt to all kinds of systems. In my position as Co-executive Director of Project Haystack, I can bring our learnings to an even wider audience and help apply them within an open-source community focused on shared ontologies and interoperability.

Haystack, through its dedicated collective members, is a community-driven organization that is looking to break down the walls that confine smart device data. Those walls prevent data interpretation by the software applications and equipment systems that can transform the way we see and use objects in our world. We advocate for an open, shared, and standard ontology for buildings that enables real interoperability across applications, vendors, and use cases for the benefit of our clients, future clients, and the best interests of the industry. Joining as Co-Executive Director of Project Haystack is a tremendous opportunity to work together with other industry leaders to move that vision forward.
How Big Will the IoT Be?
According to Statista, forecasts suggest that by 2030, around 50 billion Internet of Things (IoT) devices will be in use around the world. That's 50 billion refrigerators, smartwatches, fire alarms, door locks, security systems, air handlers, and more… with data in a magnitude that is perhaps beyond reasonable estimation. We're not alone in knowing the implications of this. Project Haystack seeks to unlock the value of that data, which is why its efforts to standardize an open-source methodology to describe the meaning of the data produced by those billions of devices is an important project that Clockworks Analytics believes in deeply.
But we're not solely engaged with Project Haystack. There are many communities in the buildings industry that need to work together to truly achieve the vision. In January, we announced that we were joining four great partners as the inaugural commercial members of the Brick Consortium. Clockworks Analytics will engage with the Brick Consortium to create interoperability with the metadata ontology and information model we have developed over the past decade, furthering the industry goal of standardizing how data is exchanged between building equipment and technology systems. We are working with other vendors, even competitors, and across different communities within the building industry to align metadata taxonomies, ontological concepts, and better tools for validation, model creation, and interoperability. The Department of Energy-funded Buildings Energy Efficiency Frontiers & Innovation Technologies (BENEFIT) project is one of those efforts. Project Haystack is leading BENEFIT with support from National Renewable Energy Laboratory (NREL), Switch Automation, SkySpark, and Clockworks Analytics to develop a validation and accreditation framework for building metadata models.
---
Hear Nick Gayeski share is thoughts on his appointment to Project Haystack
---
These communities are still subsets of the metadata taxonomies relevant to buildings. These communities want the same things, broadly, but often come from different angles, each of which have validity. I will be engaged across these efforts and advocate for cross-collaboration so that we can further converge, consolidate, and align across ontological concepts. I believe there is growing momentum to see these efforts have tighter alignment. We need more people to commit to the collaboration and drive it forward. There are many issues to wrangle to create a true standard, and it will take a melding of many perspectives to succeed. I'm proud to be involved and to join in the efforts of so many other great organizations and individuals, and to advocate for greater adoption of building metadata standards and alignment across ontologies, while leveraging our long history developing the Clockworks information model to help move the industry forward.
Nick Gayeski
CEO, Clockworks Analytics
---
Back to blog